Coastline
Location: National Oceanic and Atmospheric Administration Headquarters, Silver Spring, Maryland, U.S.A.
Materials: Granite, water, wave generator (Variwave multisequential, computer-controlled pneumatically-operated system)
Size: 75'L x30'w x 6'h, Water depth: 32"
Concept: The overall mission of this agency required a piece which would demonstrate the great power of the ocean as a force and also as a teaching tool. The resulting work is a recreation of a section of the Atlantic coastline. The wave action demonstrated here is in "real time" which means that a NOAA monitoring station at Woods Hole, Massachusetts transfers instantaneous wave heights via modem to Silver Spring where they are transferred to the wave pool. The wave action is produced by a pneumatic pulse generated by a large blower and computer controlled valve located in the parking garage under the site. The actual waves vary in height from 6 to 24 inches. When they hit the coastline the waves create 12' high surf.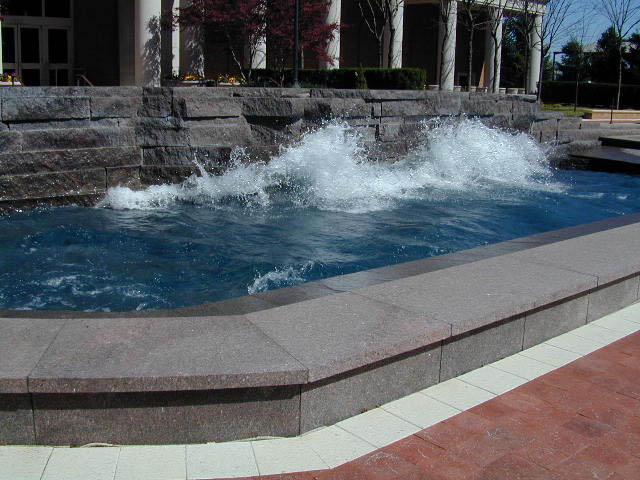 Several other images by this photographer (Lawrence I Charters) are available here.
Return to Jim Sanborn webpage